Hi Friends,
There have been a few studies that have shown that musicians tend to have more psychic ability than the general population. Some classic examples of psychics and music are Dolly Parton, Lorretta Lynn, and Johnny Horton.
I can add myself to that list and what is more, I have made the move to becoming a professional practising psychic over the past few years. www.universe-psychic.com
It all started during the height of COVID when the only place to perform was at the Vernon Farmers' Market. 2020. When I would go to play there, I could only play for 2 hours. One day as I was packing up my stuff, I thought to myself, "I am here already…I wonder if I could set up a little table and read some cards (fortunes) for the people and maybe make a few extra bucks?"
I have had this ability to read cards for a long time, but I only did it for friends and family at parties, etc. And I would use the regular card deck–not the Tarot.
So…
I asked the managers, and they said, "Sure, but you will need a tent and pay all the fees of a regular vendor, etc."
So I sat on this idea for while but it kept bugging me, and it would not let go of me. So come fall (when the market moved indoors for the winter), I paid my fees and started reading cards professionally.
As this was happening, I decided to buy a Tarot deck and try reading with Tarot cards instead of a regular card deck.
So….
I went to Chapters and just picked up a deck that attracted me (The Millennium Thoth Tarot by Renata Lechner).
I had no idea that this deck would change my life.
This deck drew me in and called on me to write a book about it: The Five-Card Pentagram Tarot. I finished and published the book by the next year and started reading cards from this deck at the Vernon Farmers Market and other places (and selling my book).
Now, I am working on another book about this deck and the Tarot, continuing to read these Tarot cards, and have become immersed in being a professional psychic–as well as a professional musician.
Life is good!
Here's a Vernon Morningstar article on my card reading/metaphysical side.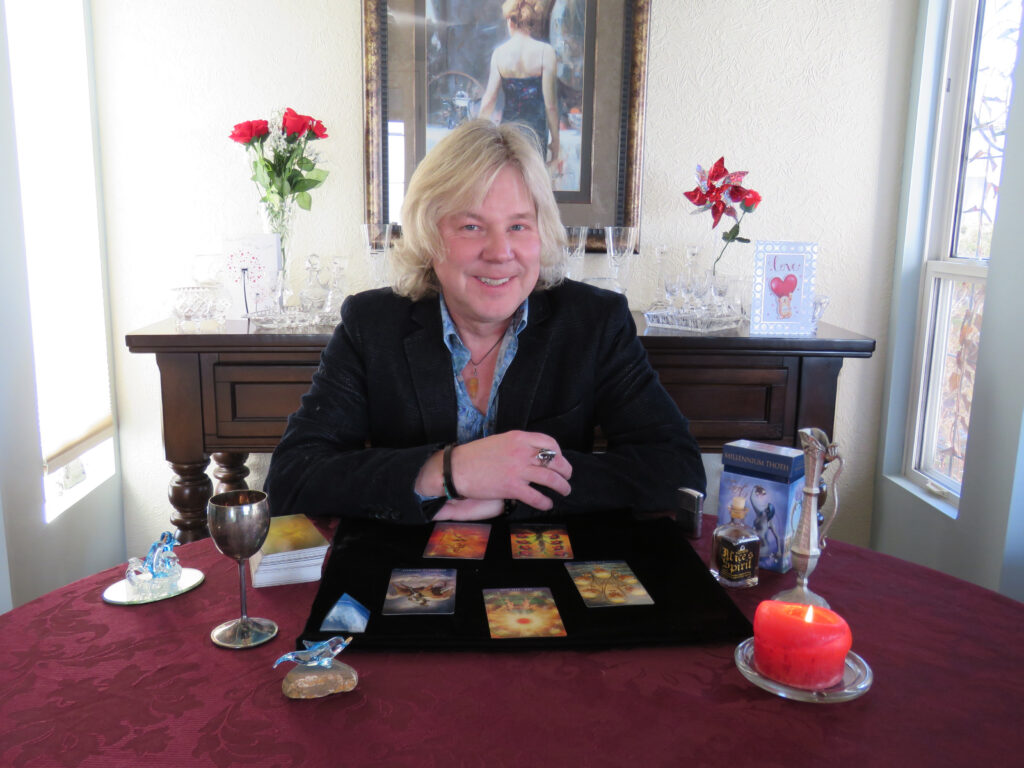 Marv Machura, a tarot card reader, psychic and author, will be at the upcoming MysticAfair Saturday in Vernon. (Contributed)
Musician turns tarot cards at Vernon psychic fair
By Jennifer Smith, Vernon Morningstar
Marv Machura can read more than just music. The local musician can also read minds and tarot cards.
"Many musicians are also psychics," said Machura, who is also an author. "It's just that I decided to go professional with it during the COVID crisis due to the lack of live music."
Machura will be among a small collective of psychics at the Centre for Spiritual Living in Vernon for Saturday's Psychic Fair.
This psychic and healing arts fair (MysticAfair) is part of an original project started by one of the Okanagan's premier practicing psychics, Alara Serait.
"In 2020 and the COVID crisis, MysticAfair reinvented itself into the Little Psychic Fair that is more intimate and friendly than some of the bigger psychic fairs that I was running before 2020," she said.
The MysicAfair events have steadily grown in popularity, especially over the past year, said Serait.
MysticAfair is a collective of psychic and metaphysical practitioners with Seriat featuring various psychics and crafters for each event, so each is unique.
The Psychic Fair starts at 12 p.m. and goes until 6 p.m. at 2913 29th Ave. Admission is $5. For more information, visit mysticafair.com.
The fairs take place monthly, alternating between Vernon and Kelowna.